Sanjay Mistry
Director
I first began my experience with GPS Tracking as a Technical Sales and Account Manager in the Asset tracking sector, selling tracking devices to security companies and private investigators. I set up Trackit247 Ltd in 2011 with the main objective of providing a tracking service which met expectations, yet maintained a low-cost solution for businesses of all sizes. My aim was to provide a great service to our customers to the best of our abilities, without any long term contracts & without any complicated plans or tariffs.
That is what we have achieved with Trackit247.
Trackit247, I am proud to say, is now a company that looks after many security services and businesses of all sizes, internationally. Providing a great, easy-to-use tracking software, with simple-to-use products, for commercial and personal use. We also provide customised solutions in all aspects of tracking. We believe our customer service and support is second to none, and many of our customers seem to agree!
Welcome to Trackit247. Now, I would like to introduce you to the rest of the team…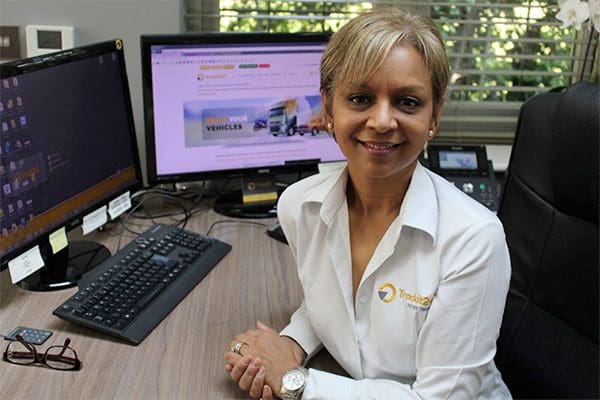 Harsha Mistry
Accounts/Office Manager
Harsha looks after all aspects of the accounts and administration department for Trackit247. She is a very valued and talented member of our team. Harsha is one of our first lines of contact for any incoming enquiries, with customer focus being her priority.
With years of experience within the corporate environment, she understands how to keep the team motivated, and (more importantly) is passionate about looking after our customers- making her a vital member of our team.
Harsha adds a positive and upbeat approach to our environment.
Darren Green
Senior Technical Support
Darren joined the Trackit247 team in 2012, and started off with configuring our tracking devices to get them ready for customers, and providing basic technical support. Darren is an important part of our Technical Support Team, and helps to look after many of the special projects that we get involved with. He has strong analytical skills and gets involved with all aspects of Trackit247, while providing ongoing support to all of our major accounts.
Darren has worked in the IT Technical Support industry for over 15 years, in a number of different business sectors.
Trackit247 has given Darren the opportunity to grow his skills in a number of different projects. He continues to strive to improve our control panel software and maintain our high level of customer support; which is our primary goal!
He is a valued, dedicated and loyal member of the Trackit247 Team.
Joe Heredia
Technical Support Manager
Joe joined the Trackit247 team as Technical Support at the start of 2017, after completing an apprenticeship in IT Support. He quickly developed his knowledge of the tracking industry, our tracking system & our devices-allowing him to provide stellar technical support to all of our Trackit247 customers.
Trackit247 has given Joe the opportunity to learn and develop his skills whilst being involved in projects and testing out new devices and products. In 2021, he was rightfully given the title of Technical Support Manager. Today, alongside Darren, he is a valued, dedicated and loyal member of the team.
Joe is also a very competent graphics designer, and his skills allow us to produce in-house marketing material.
Amy Charge
Customer Service/Technical Support
Amy joined the Trackit247 team, primarily as Customer Service, in October 2020. Coming from a strong background in customer support roles, she is very experienced in this sector and, as such, is now the first line of contact for incoming telephone enquiries.
She hit the ground running, and has already been able to develop her knowledge and skills to the point where she is able to provide outstanding customer-praised customer service and great technical support, as well as produce articles for our company's social media accounts and website, and create marketing material.
Amy is very passionate about customer service, and makes looking after our customers her main focus.