Our Frequently-Asked Questions; Answered
Here are a number of our most frequently-asked questions, answered for your convenience.
Do you have a question which has not been answered, here? Do you have a suggestion for an FAQ we may have forgotten to include? Reach out to let us know!
Get in Contact with Us
You can set Safety/Geofence zones from our control panel, and you will receive emails, SMS or push messages when you leave and/or enter the safety zones. (you will need to setup the alert contacts in the settings tab in the control panel for this to work see setup geofence zones). You can add, edit & delete Safety Zones and set as many as you require .
You will receive 30 SMS credits per tracker as standard, included in your monthly subscription. Every command you send to the tracker or SMS message you receive will use one of your monthly SMS credits, but email and push alerts are unlimited.
If you run out, we can top them up free of charge on occasion. However, if this is likely to become a frequent occurrence, speak to us about payment options for an increase in your SMS credit allowance.
Yes you can, there are no restrictions on how many screens can be logged in at any one time.
Yes, you can view as many trackers as you like on the control panel (as long as you own them, of course!). There is also an advanced view, which allows you to see a quick summary of all of the trackers in your account, in one place. See how to check your trackers.
Any GPS tracking device has its limitations. For example, if you are inside a room with no windows and a solid concrete or lead roof, then the chances of obtaining a valid GPS position are very low. The units do however, have very sensitive GPS receivers, which help the devices to obtain a fix very quickly. In general, you will find the devices perform to a very high standard and will work in many buildings.
Sometimes, when the tracker is stationary inside a building or in a confined space, the GPS signal can be difficult to transmit and some 'bouncing' or 'reflection/refraction' may occur- giving a false impression of movement. A bounce will usually still show a location which is accurate to within a few metres, however.
No. You are ready to track, straight out of the box unless you have purchased the tracker inactive.
No. You can log into the web-based control panel from any internet browser using a PC, laptop or tablet. If you are accessing the control panel from a mobile phone, you will need to download the free iPhone or Android apps. Both these options are included with your subscription.
The Trackit247 devices carry a 12 month warranty from the date of purchase. If you have a problem, then you must contact customer services at [email protected] or call us on 01923 608647. If we cannot fix the fault remotely, we will repair or replace the unit, free-of-charge*.
*Please note that charging port repairs carry a charge of £15 ex VAT. Refund and Returns Policy applies.
Only our personal/leaflet trackers have the panic button function. When the panic button is held down for 5 seconds, the following will happen:
1. The unit will inform the control panel with an audio/visual ALERT MESSAGE, indicating that the panic button has been activated and giving full location details.
2. You can receive an email or SMS message, informing you that the panic button has been activated and giving you full locations details. To activate this feature, you must enter your email address or mobile number in the SETTINGS SECTION on the control panel. (Please use country code, i.e. +447xxx xxxxxx)
3. Your mobile phone can receive a push alert, alerting you of the above. You will need to have set this feature up first, using the settings cog symbol which is visible at the top right when you initially log in to the app (See Jan 2021's Amy's Advice in the News section of this site for detailed instructions).
Ti-920: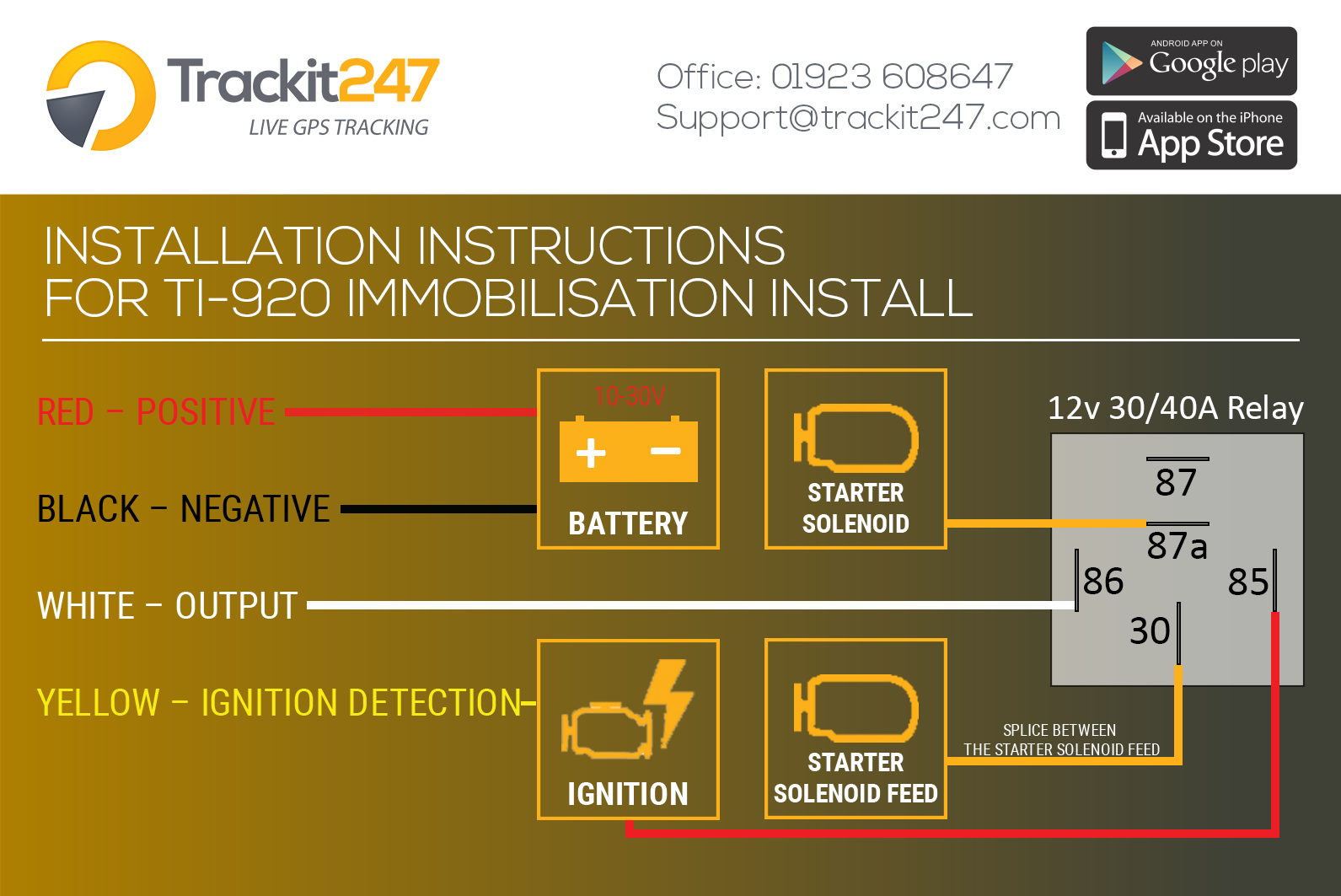 Ti-204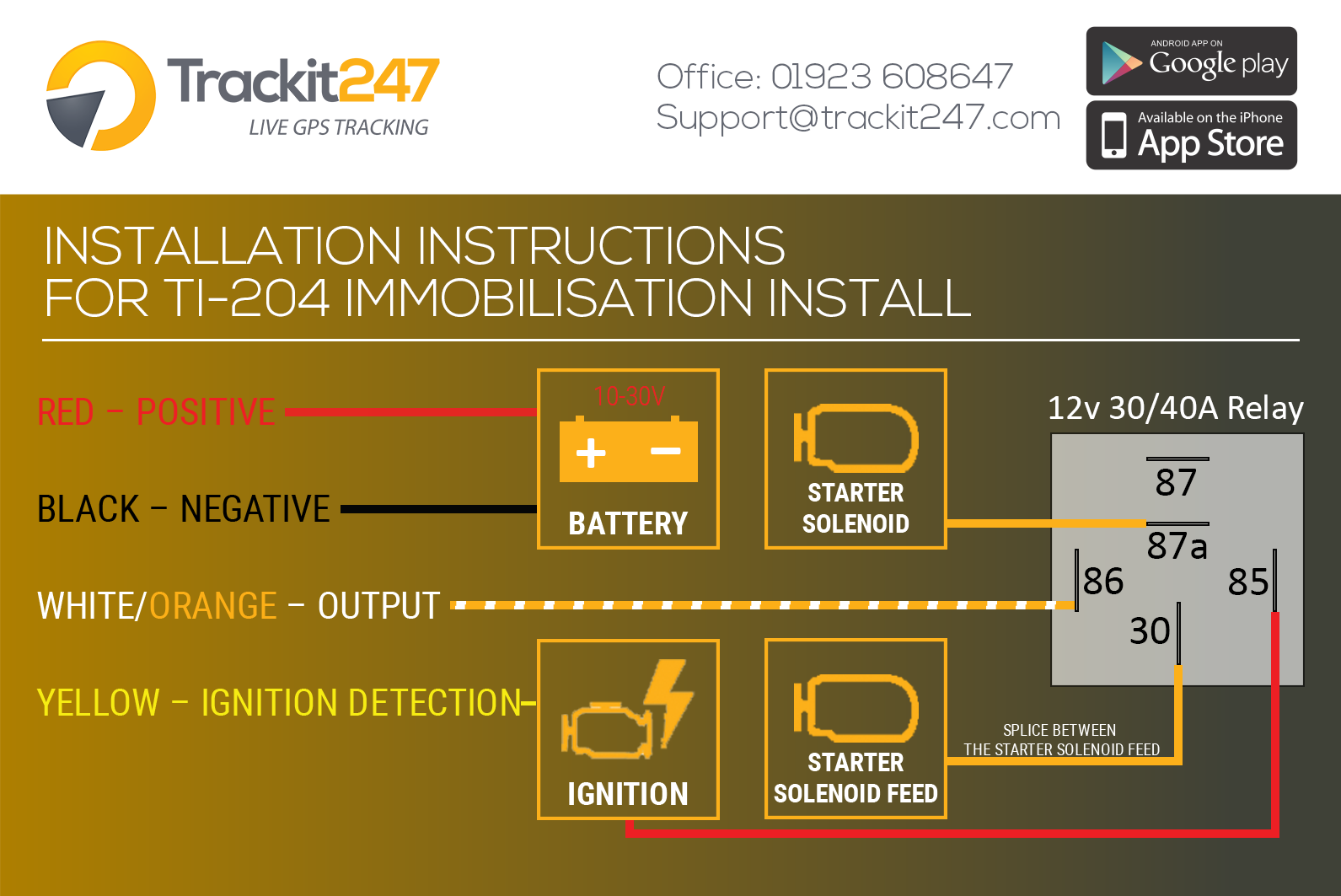 You can view the battery level at all times, on the control panel or the mobile apps. The Trackit247 device automatically updates the battery level reading, every time a position is updated on the control panel.
You will also receive a low battery warning via email, SMS and/or push notification (if these have been set up) once the charge drops past your custom threshold, e.g. 20%.
Please see the History Explained video link here.
You can set as many zones as you require, anywhere. You can edit or delete the zones, as needed. Click here to see how to add a fence/zone.


Please click here to see how to setup motion alerts.
The endurance of the battery depends on which intervals you set your device to send its positions at, and the model you choose.
Please visit our Shop page for more information on the battery lives of each tracker.
This can vary depending on the tracker model, and how well you take care of the device. Some tracker faults are covered under warranty and repair will continue to be free-of-charge when warranty is up- extending the life of your device. Other faults or damage to the tracker may not be covered. Refund and Returns Policy applies.
Some trackers can be re-charged, whereas you can purchase replacement batteries for others when they expire*.
*Not applicable to the Ti-TG7 and Ti-TG9 trackers.
Yes. You can start to use your tracker immediately! The trackers are ready to go, just switch it on or connect it to a vehicle, log on and start tracking!
The tracker will work in most countries across Europe. Please contact us at [email protected] to obtain a list of countries where your device will work. 
You can use the device in any country we have a roaming agreement with on our sim cards, at no extra cost*
*Fair usage policy applies
Our office is open from 9.00 am until 5:30pm, Monday to Thursday.
Fridays we are open from 9.00am until 4.00pm.
We are closed on weekends and bank holidays.
For all out-of-hours enquiries, please email [email protected], or leave us a voice message with your name and contact number on our Customer Service line: 01923 608647